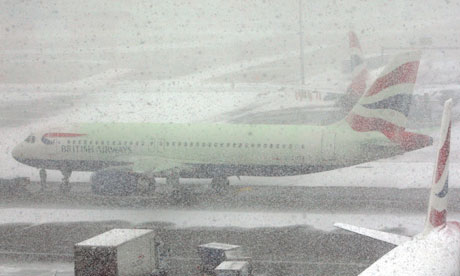 More heat waves are predicted [in the UK], increasing heat-related deaths to around 2800 cases per year. This is likely to be offset by fewer cold related deaths. -- What will climate change mean for the UK?, National Environment Research Council, March 20, 2009.
Yet...
The Arctic conditions are set to last through the Christmas and New Year bank holidays and beyond and as temperatures plummeted to -10c (14f) the Met Office said this December was 'almost certain' to become the coldest since records began in 1910. -- Coldest December since records began as temperatures plummet to minus 10C  bringing travel chaos across Britain, The Daily Mail (UK), December 18, 2010.
Update (12/19/10)
Matt Drudge has found an article from a UK paper in 2000 with the headline "Snowfalls are now just a thing of the past."
The best quote?
According to Dr David Viner, a senior research scientist at the climatic research unit (CRU) of the University of East Anglia,within a few years winter snowfall will become "a very rare and exciting event".
"Children just aren't going to know what snow is," he said.